Kids love sweets – chocolate, candies, cakes, cookies…It is so hard to keep them away from them. Although a little chocolate or sugar won't do any harm we should really try to teach our children to a healthy alternative of their favorite desserts. Start right now by preparing some of this 5 Easy and healthy kids recipes we are recommending. Your kids will love them!
1. Lemon Blossoms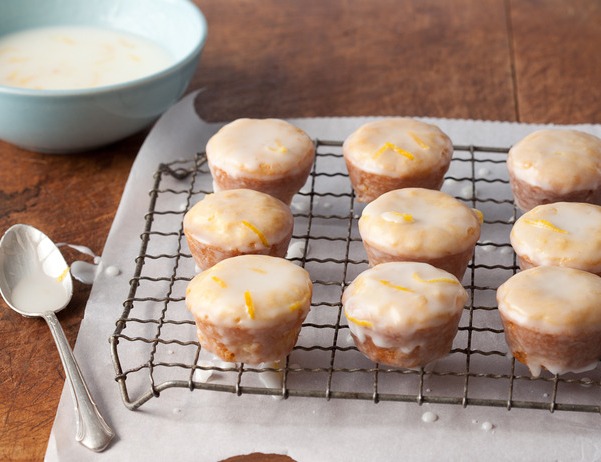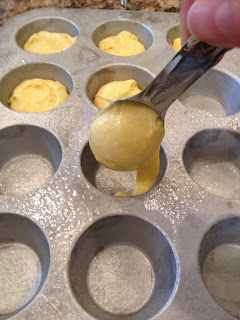 Ingredients:
18 1/2-ounce package yellow cake mix
3 1/2-ounce package instant lemon pudding mix
4 large eggs
3/4 cup vegetable oil
4 cups confectioners' sugar
1/3 cup fresh lemon juice
1 lemon, zested
3 tablespoons vegetable oil
3 tablespoons water
Start by preheating the oven to 350 F. Use vegetable cooking oil to spray the miniature cupcake tins. With an electric mixer blend he cake mix, pudding mix, eggs and oil until smooth. Fill each cupcake tin with batter but only  half way. Bake for around 12 minutes. Using a spoon mix the sugar with the lemon juice, zest, oil, and 3 tablespoons water. Dip the warm cupcakes into the glaze using your fingers till completely covered. Place them on wire racks with some paper underneath. Let them set for an hour before you put them into tight-fitting containers.
2. Tropical Fruit Skewers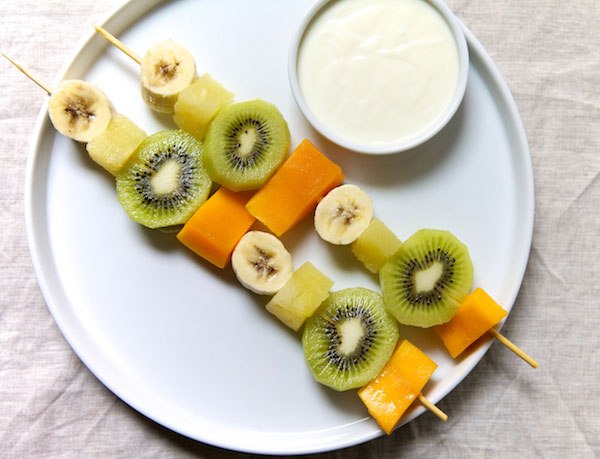 Ingredients:
Mango

Banana
Pineapple
Vanilla yogurt
Skewers
Cut the fruits into cubes and stick them onto the skewers. Serve with Vanilla yogurt as a dipping sauce!
3. Chocolate mousse with fresh berries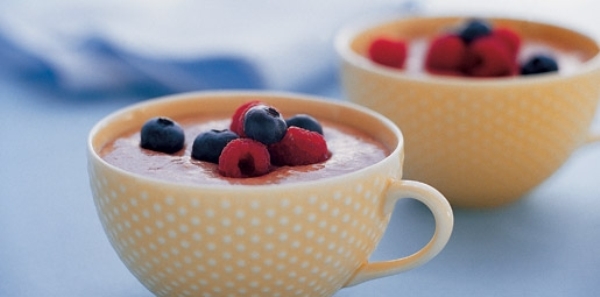 Ingredients:
175g dark chocolate
2 teaspoons gelatin
100g reduced fat ricotta
250ml reduced fat vanilla custard
4 egg whites
300g mixed fresh berries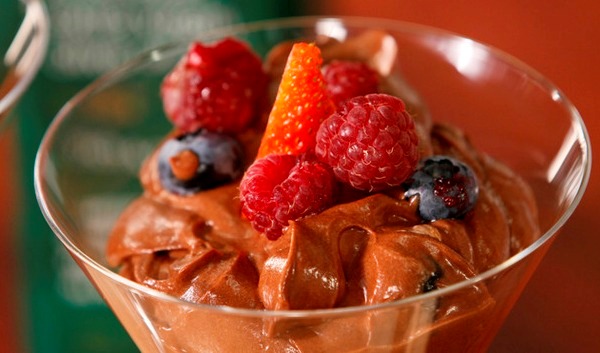 Chop the chocolate and put it in a bowl over a pot of simmering water than stir over low heat until the chocolate melts. Put aside to cool down. Mix the gelatin into 60ml of water into a small pot than stir over low heat until the gelatin dissolves. Set aside to cool. Beat the ricotta and custard together until smooth. Press through a sieve to remove any lumps. Beat the egg whites until stiff peaks form. Fold through the ricotta mixture. Mix the gelatin and chocolate into the ricotta. Put the mousse into six 125ml mugs, cover and refrigerate for 1 hour.  Serve with mixed fresh berries over the mousse.
4. Frozen Chocolate-Banana bites
Ingredients:
bananas

dark chocolate
unsweetened shredded coconut or nuts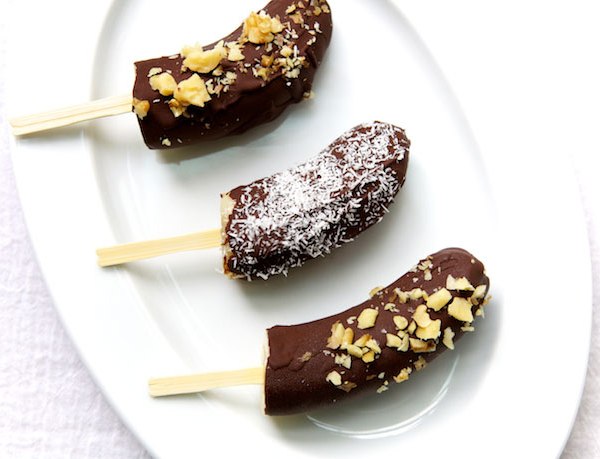 Cut bananas into bite size chunks and freeze them. Melt the dark chocolate in the microwave. Dip the frozen bananas into the chocolate. Roll the chunks into some coconut or nuts than let them freeze until it sets. Easy and great for the Summer!
5. Caramel Apples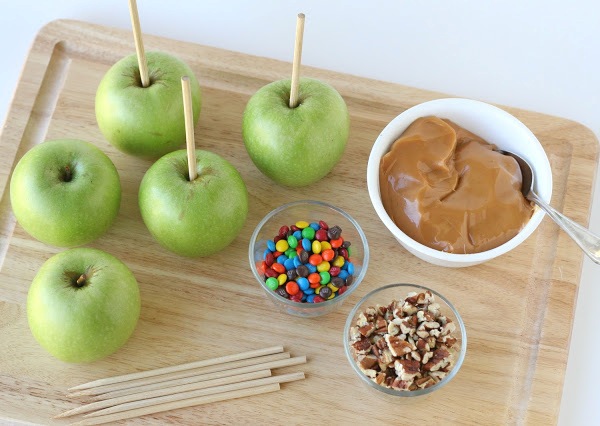 12 firm, small- to medium-sized green apples
2 cups  dark brown sugar
1 cup butter
1 fourteen-ounce can of sweetened condensed milk
1/2 cup pure maple syrup
1/3 cup dark corn syrup
2 teaspoons vanilla extract
1 pinch salt
Start by piercing every apple almost to its bottom with some lollipop sticks or chopsticks. Combine  sugar, butter, sweetened condensed milk, maple syrup, corn syrups, vanilla and salt in a medium saucepan and cook over medium heat stirring until it boils. Continue to heat for another 15 minutes. Remove the caramel and pour it into a large bowl. Let it cool slightly and start dipping the apples, one by one. Feel free to decorate them if you wish. Place the caramel-coated apples on a cooking sheet lined with waxed paper and place in the fridge to cool completely.