Plus Size Shoppers are often frustrated by the fact that most of the shops offer only small quantity of + sized clothes and even if they do – they sell almost immediately. But, while this is the case with the common shops there is a place that is a true haven for full figured women and it is the internet! There are more and more online shops that specialize in + sized clothes and the choice is really wide. Dresses are one of the best type of clothes for those on the curvier side and when to wear them if not during the Summer? Here are 10 great deals on flattering dresses for full figured ladies:
1. ASOS CURVE Exclusive Swing Dress with Lace Insert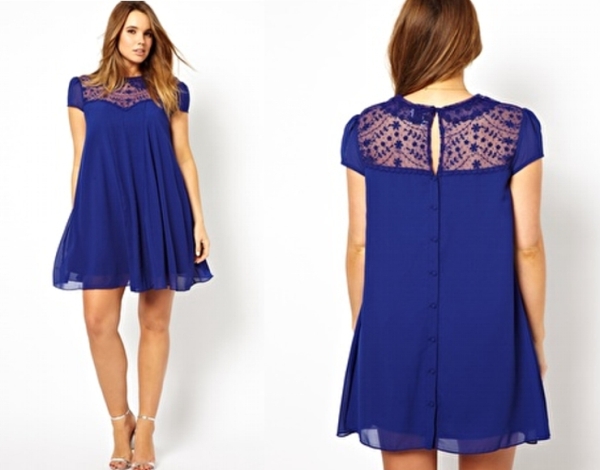 This delicate chiffon dress with Peter Pan Lace Collar and its regular swing fit is so figure flattering that you will feel amazing in it. Although it comes in two colors, we prefer the navy over the cream with black lace combination. Navy is so trendy and you can find lots of accessories to pair it with. Although it is a rather casual dress that will look great for work or lunch with friends, the lace gives this dress a little bit of an elegant touch so pair it with silver sandals and you get yourself a party dress! Assos offers it for &76.36 with free shipping.
2. Cold Shoulder Matte Jersey Blouson Dress by Jessica Simpson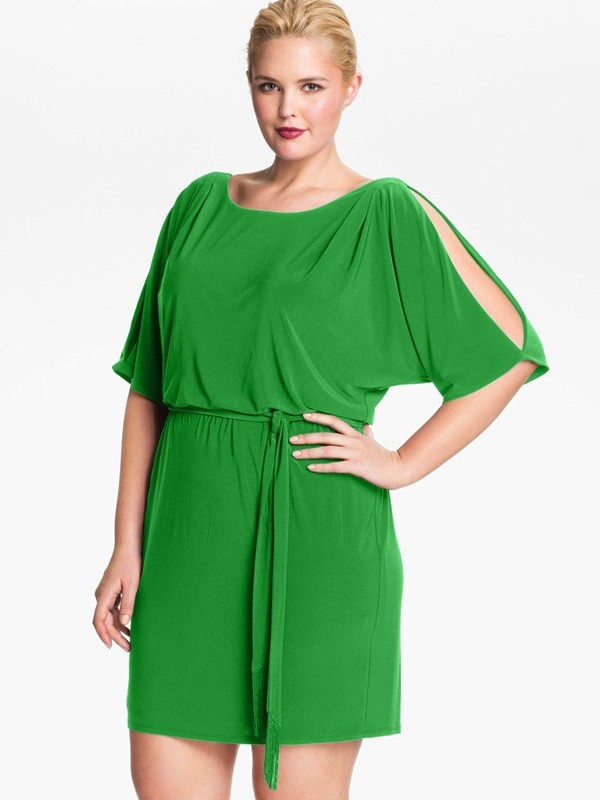 Summer is the season to bear your arms! We know that usually plus sized women like to hide under sleeves, but this Matte Jersey Dress by Jessica Simpson bears your arms in a subtle way that will flatter you. It is rather slim fit at the hips, so you have to be careful to choose the right size for you. Our favorite out of the 3 colors they are offering is the green one. The dress is so versatile that you can achieve different looks by switching out the belt or by pairing it with high hills or flats. Buy it at Nordstrom for $98
3. Adrianna Papell Plus Size Dress, Sleeveless Lace Sheath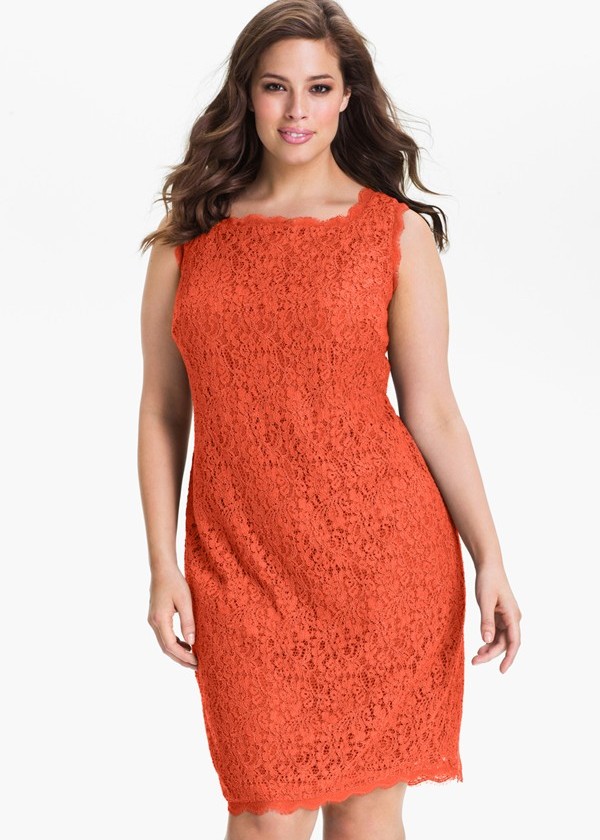 If you want to look elegant this silk dress will do the trick! The figure-flattering fit will make you look thinner and it's knee length is just right. We recommend the popular Coral color, but if you need extra elegance the dress also comes in black. Night outing, special dinner, party or even a wedding – you will stun everyone in this dress. The material is so soft that it will make you feel heavenly. Oh, and the best thing comes last – it is on SALE at Macy's  for $ 89.50 and
4. Plus Size Tropical Mirror Print Maxi Dress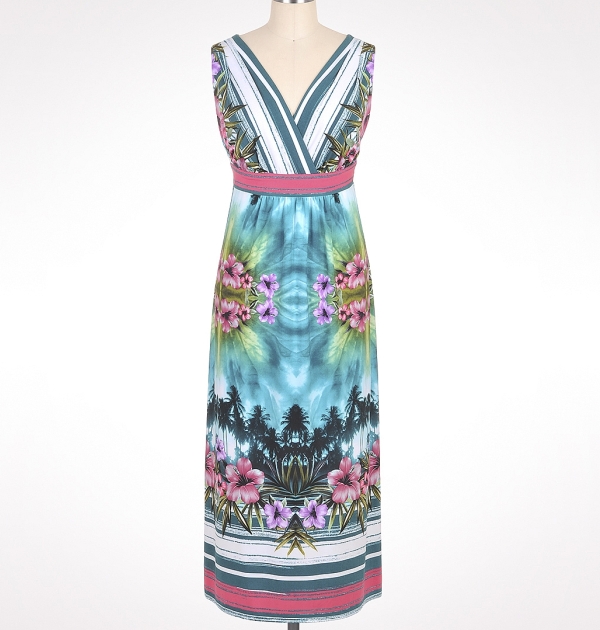 Wow – look at that tropical landscape printed on this flowing maxi dress! Summer is written all over it! The V neck with vertical stripes will make your upper body part look really smaller. Wear it with a colorful shrug and eye catching necklace and you will sure gets tons of compliments. Another thing that will make you smile it's the price as it is on sale for only $40.00 at dressbarn.com
5. Glamorosa Black&Pink Career Dress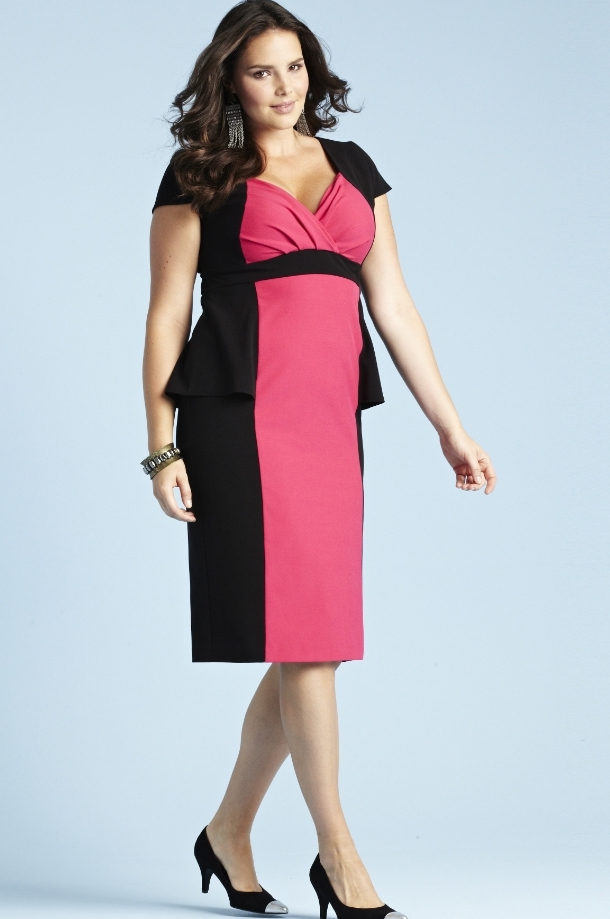 We are loving everything about this career-perfect dress! The two toned design makes an illusion of a smaller frame, it is machine washable and it comes in three fittings so you will sure find your perfect match. Wearing it you will look smart, serious and most of all – beautiful. Impress everyone at your office with this flattering number. Buy it at simplybe.com for $99.00
6. Braided Belt Hi Lo Dress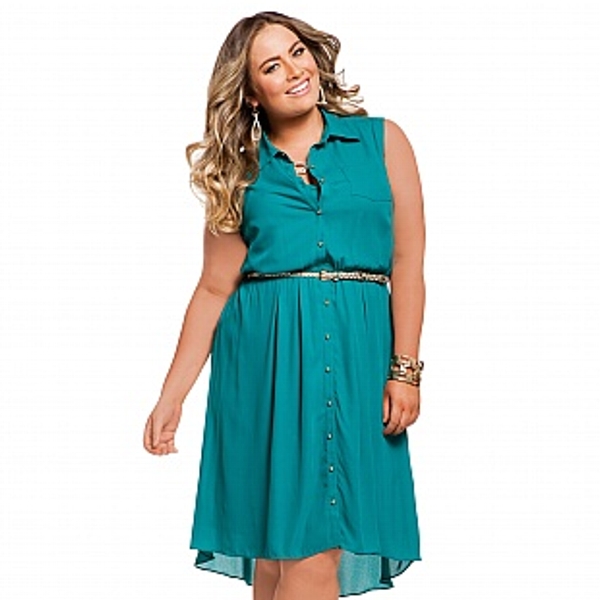 Look gorgeous in this trendy  Hi Lo dress. The button down closure makes it perfect for work, but also for weekend outings! It has an elastic waist covered by a braided belt that flatters your silhouette. We are loving the Turquoise color with golden braided belt that goes great with golden accessories for a more elegant look. The dress can be yours for only $49.50 at ashleystewart.com
7. A Line Crinkle Maxi Dress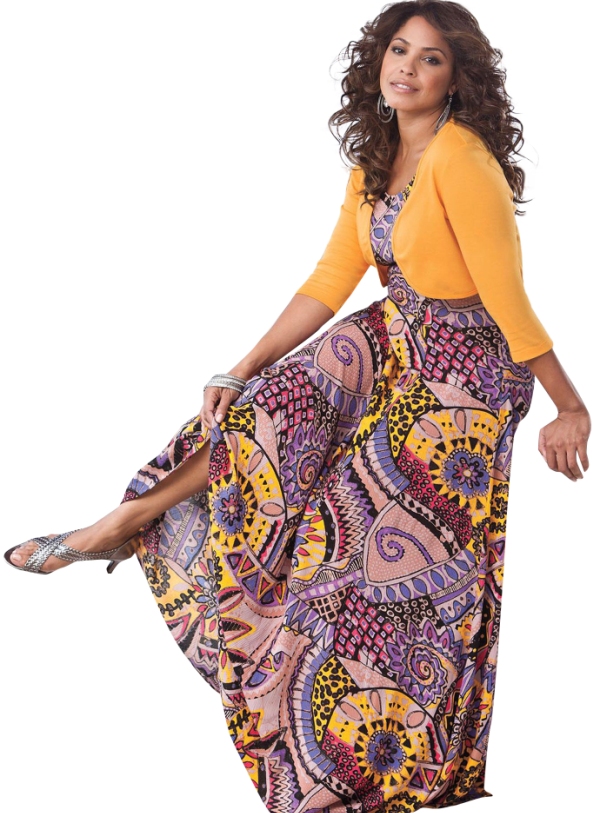 Once you try this dress you will want to have it in every color they offer! It's shaping seams make it so figure flattering that it's just amazing wearing it. It is a sleeveless A-line dress  but it comes with a cute pullover for those who don't want to bear their arms. The Mosaic print is our choice but feel free to pick some of the other versions: Tropical Floral, Pink, Black and Multi Print. This will easily become your favorite sundress. Prices start at $39.99 at roamans.com
8. Statement-Making Polka Dot Romper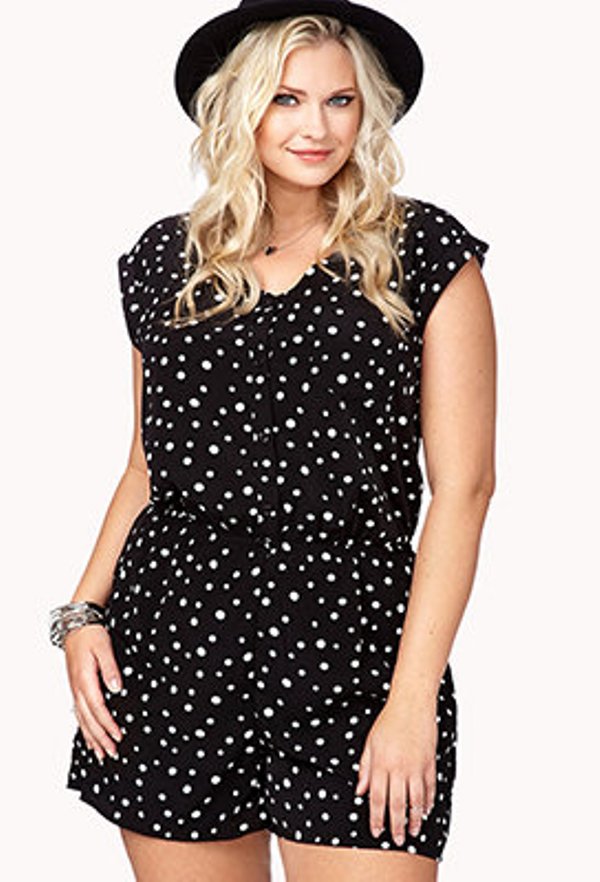 Ok, we are talking about dresses, but we just couldn't leave out this chic polka dot romper by Forever21+. It is so lightweight and comfortable that you would like to wear 24/7. Wear it for a casual night out or even for a picnic! The only downfall is that if you have large chest you can get that awkward gap around the bust you usually get when wearing button down shirts. Just order one size up and problem solved. The price for this cute as a button romper is $22.80
9. Old Navy's Shirred Jersey Dress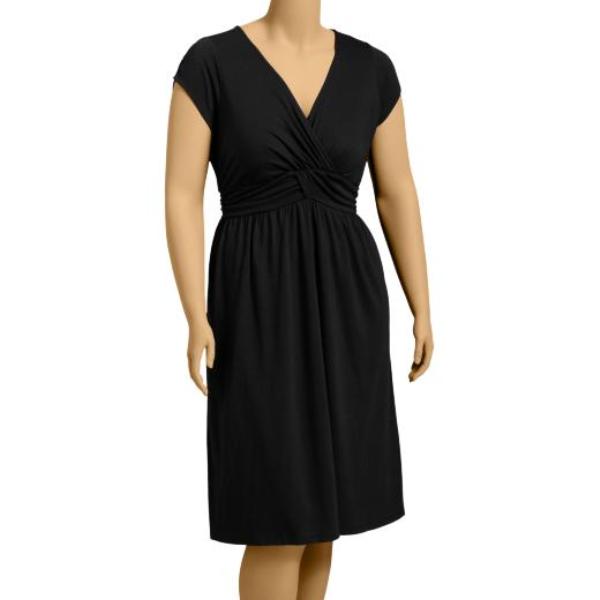 Cross-front neckline, cap sleeves, shirred empire waistband, soft jersey with added stretch – this is the number one choice dress for all full figured women! Plus it is lightweight which makes it ideal for summer. The Little Black Dress is so versatile and you can wear it with pretty much anything! If you still don't have a dress like this in your wardrobe it is the real time to order it at oldnavy  for 39.94. It's the best dress investment you can make!
10. Pacifica Tie-Dye Maxi Dres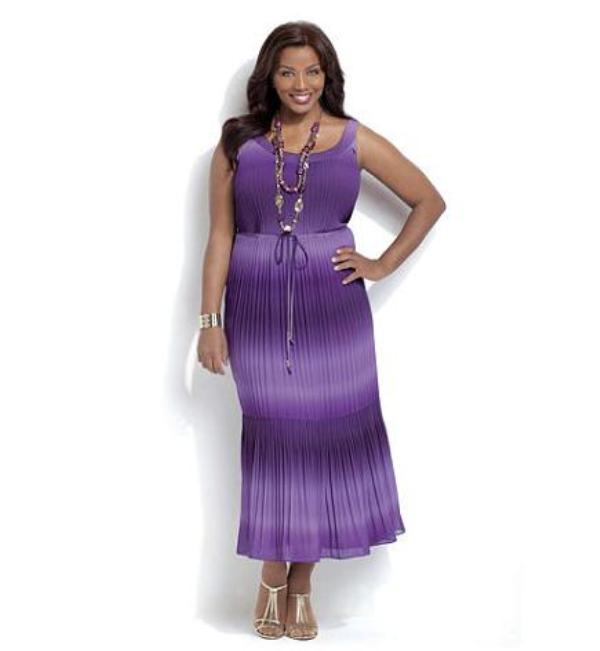 Look and feel extra feminine in this maxi Tie-Dye dress in Imperial Purple. It is silky, soft and gives you gracefulness. Features a tier stitch design for added flattery. It is expertly designed to fir plus sized women perfectly. Accent it with a long statement-making necklace and golden sandals for a night outing.  Style, fit and comfort – you get it all with this dress. Buy it $98.00 at catherines.lanebryant.com