The right swimsuit can really do wonders to your body! Hide your belly, fake a curvier figure, enhance your bust or minimize your hips by following our easy tips on how to choose the perfect swimsuit for your body type...
1. Small bust
While you worry about having a small bust, bustier ladies envy you cause probably every swimsuits in the store suits you! This summer swimsuits with ruffles, fringes and frills are so popular and they are just perfect for your body type. You can also try the tiny bikini with small triangle shaped tops that really makes your twins stand out in the right way. Another trend you can follow with ease – horizontal stripes. They will make you look fuller in the right places!
2. Big Bust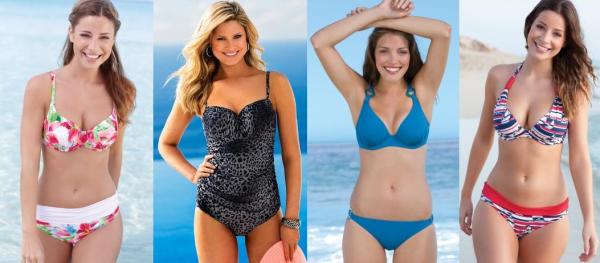 Finding a flattering top can really be frustrating for ladies with larger chest. The key is to look for one with supporting wiring. Darts and silicone edging will also do the trick, as well as halter tops. Another important detail is the printing – small detailed patterns and solid colors are preferable for minimizing big bust. Stay away from anything with strings and you'll be just fine. Don't worry – with the right bust supporting top  you will stun everyone at the beach!
3. Yummy Tummy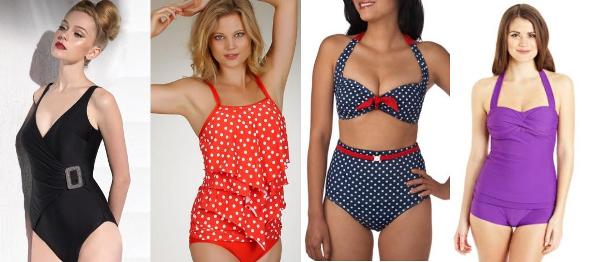 Having a bit of tummy can really make you stick with one piece swimsuits and avoid bikini., but if you choose a bottom with a fold over or higher waistband you are safe to go! If you decide to stick with the one piece – try a belted model as it creates a faux hourglass shape. Tankini is another great option for hiding your belly. Go for dark colors or small dots prints as they will distract eyes from your middle. And you can always use a parreo !
4. Bootylicious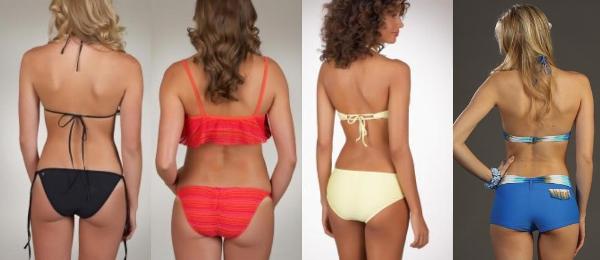 Big bums can look fabulous with the right bikini bottom! If your booty is big and round just avoid horizontal stripes. For full coverage choose skirts and shorts. For larger hips rock the classic bikini with strings and higher cut legs. Keep it simple and solid – no patters, bold colors etc. Do the opposite if you are flat at the behind – choose bright colors, details, patterns…anything that will create the illusion of curves.
5. Plus Size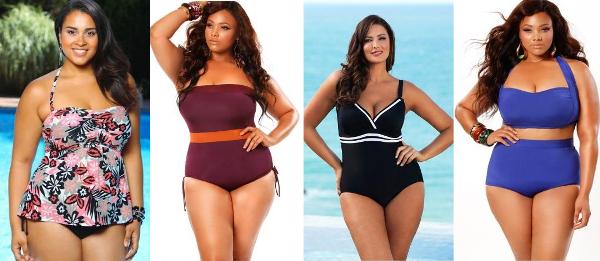 Swimsuit shopping is probably a nightmare if you have a fuller figure. It is hard to choose the most flattering piece, but here are some useful tips on how to choose the perfect swimsuit for plus sized body…One piece and tankini are the best choice! When choosing opt for solid colors, no excess fabric, good bust support and stretchy fabrics. Some contrast striping can also  make you look slimmer. If you wanna go for a bikini – try high waist bottoms and wired tops for solid support.