Surprise your family & friends with this easy to do Aromatic Skewers made from delicious meatballs and seasonal vegetables. They are not only tasty but also look fabulous and can serve as party food as well!
What you need for preparing these fragrant skewers is:
1 lb ground beef
2 big onions
2 garlic cloves
1 egg
1 slice of old bread
1/4 cup of milk
1/2 tbs ground red pepper, salt and pepper
1 tbs Provence spice mix
1 zucchini
2-3 tomatoes
small branch of parsley
some fresh rosemary
2 tbs of olive oil
skewer sticks
breadcrumbs
Put the skewer sticks in some water and let them soak for 2 hour. This will prevent the sticks from burning during the cooking process. Soak the bread slice in the milk until it fully absorbs it. In a bowl mix the ground beef, the egg, salt and pepper, red pepper and the Provence spice mix. Chop 1 onion, 2 garlic clove and parsley and add them to the meat mixture. Add the soaked bread  and mix well until combined. Cover the bowl with a plastic bag and leave it in the fridge for at least an hour.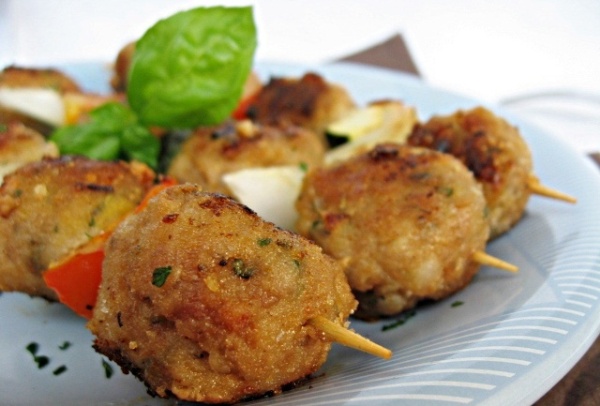 In the meantime, prepare the vegetables – cut the second onion into big chunks, tomatoes and zucchini into cubes and put everything in a bowl. Pour the vegetable mixture with some olive oil, salt, pepper and fresh rosemary. Cover the bowl with a plastic bag and put in the fridge to marinate.
When the meat mixture is ready start making little meatballs (the size of a walnut) which you will roll in the breadcrumbs. Leave the meatballs in the fridge for 10 minutes.
Prepare the skewers by stacking the meatballs and vegetables chunk onto the sticks. Cook the Aromatic Meatballs&Vegetables Skewers in a grill pan untill golden.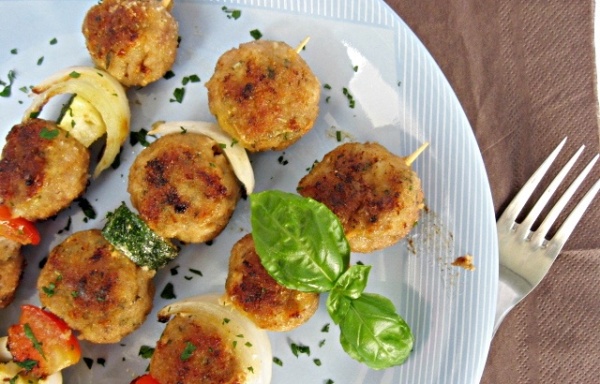 Bon appetit!