The nail art craze is in full swing when Summer knocks on our doors…So many questions are starting to come into our minds. Which style is popular this Summer? What are the trendiest colors? What are the trendiest designs? Don't spend your town thinking or browsing cause we collected the Top 15 Summer Nail Art Ideas that are so trendy, fun and glamorous you will die to try them ASAP!

1. Ombre Nails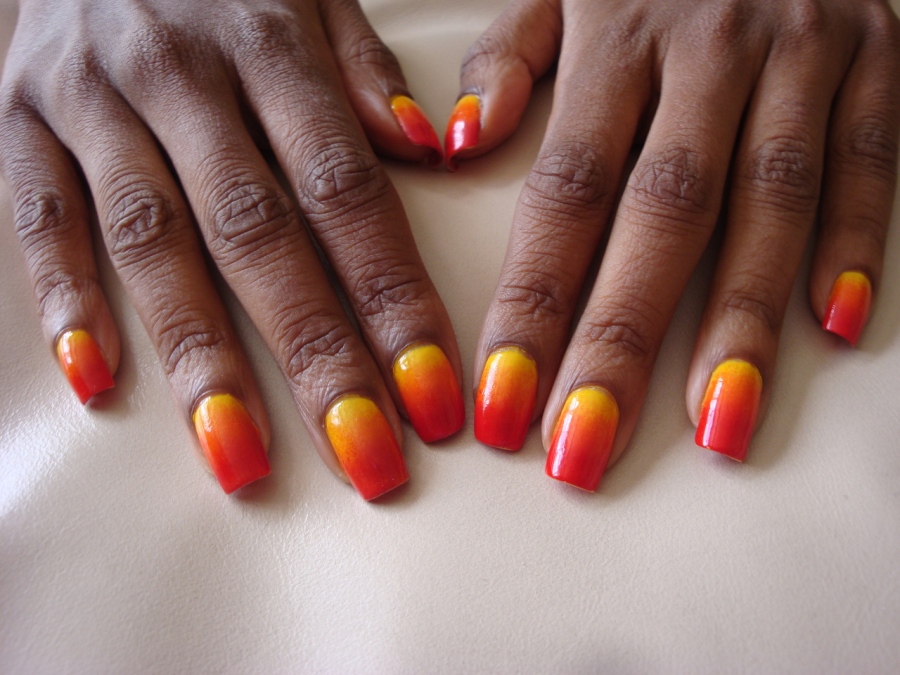 Whether you choose to do them with two shades of polish and a sponge or paint your nails 5 different shades of the same color, your nails will be super trendy and ideal for the Summer. Ombre is so popular and easy to create, just pick your favorite color. We recommend using yellow and orange to achieve the color of the sun.
2. Paint Drip Nails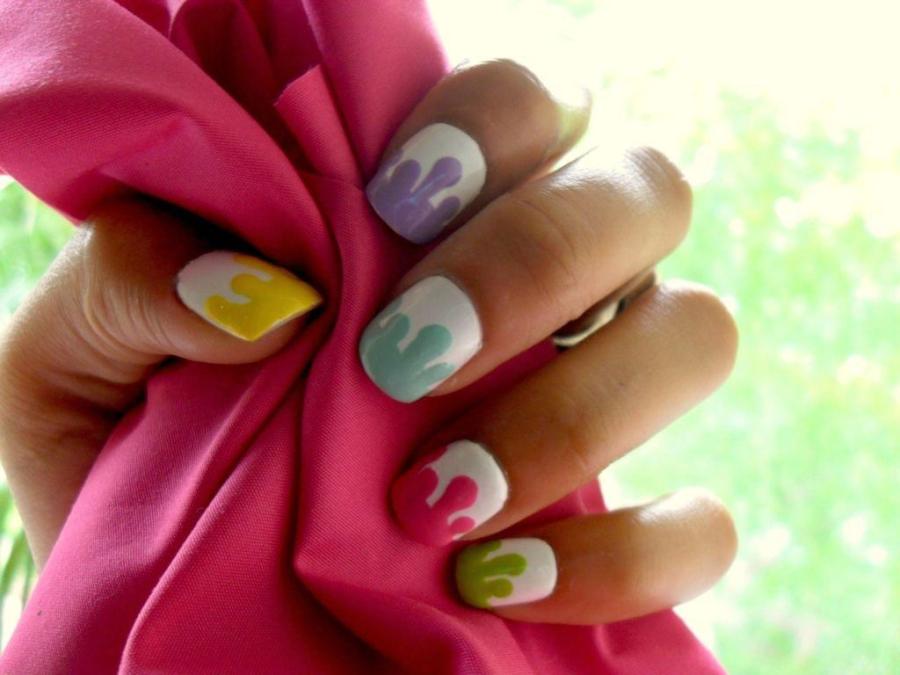 This is such an easy to make and fun design. You can use it for both long and short nails. Just pick a base color and make a drip-like design with another contrasting color. Your nails should look like they have been dripped in paint. Cool.
3. Nautical Stripes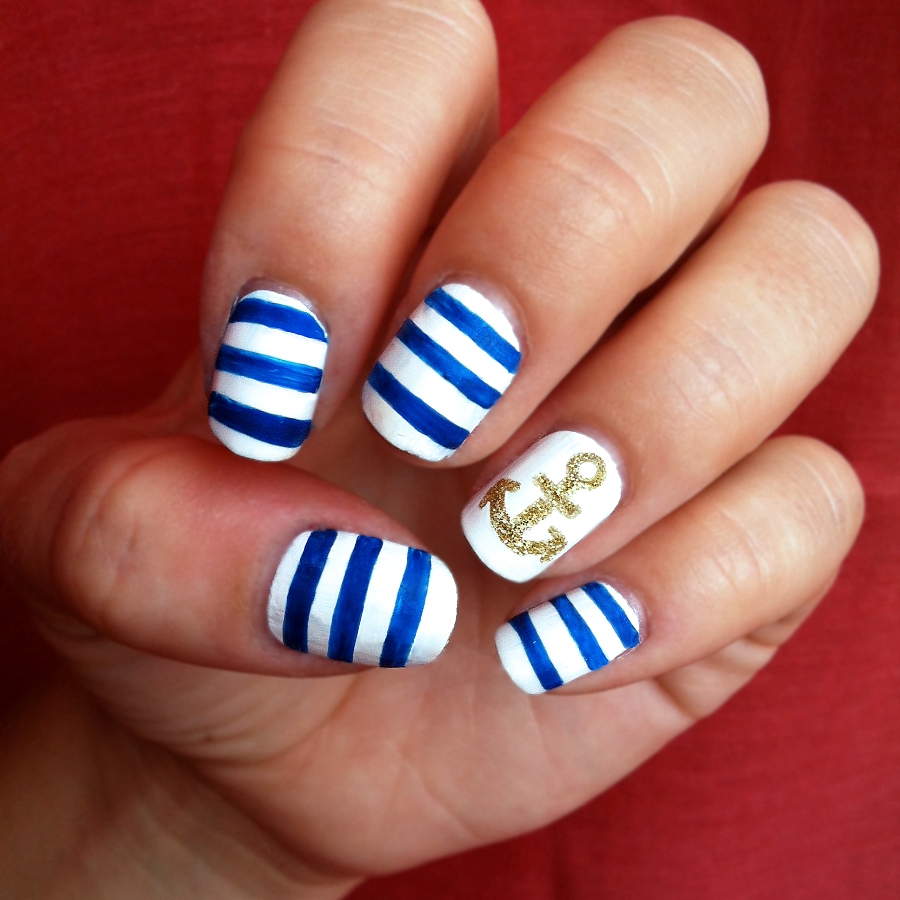 Nautical stripes are popular fashion trend every summer. Why don't try some on your nails? Blue, red and white are the colors to use for achieving the authentic look. Paint a small anchor on one of the nails for an effective touch. Use silver or gold nail polish for the best results.
4. Polka Dots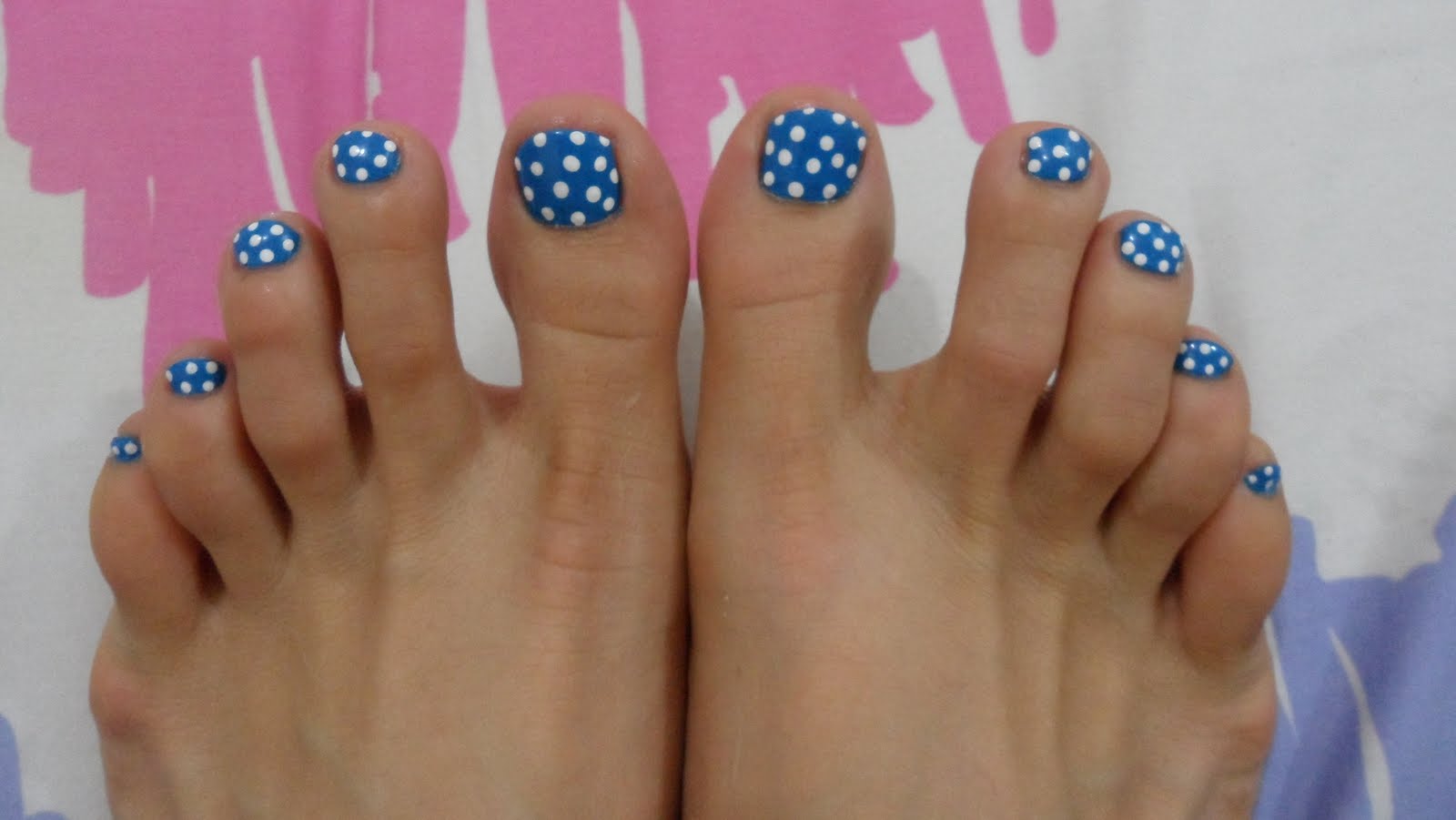 You can have so much fun with polka dots! They are retro chick and can make some fabulous nail art. Using a dotting tool will give you the best result. Try black dots over a neon color, white dotts over pastels or multi colored dots over white. Fun, fun, fun.
5. Fruity Nails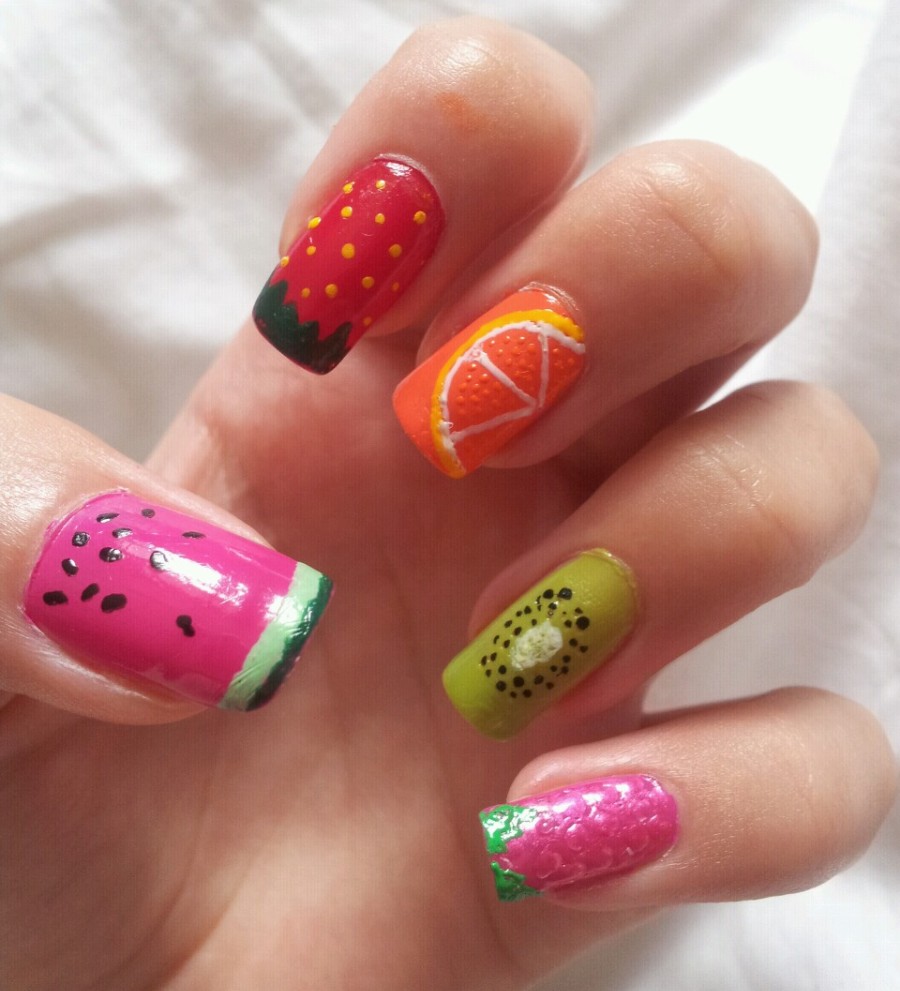 Yummy! Strawberries, watermelon, cherries, peaches, oranges or lemons – fruits are one of the summer's favorite nail art design. You can make your nail look like a whole fruit or you can use a fruit shaped ornament and attach it on your nail. Sweet and easy – just like that.
6. Ocean Waves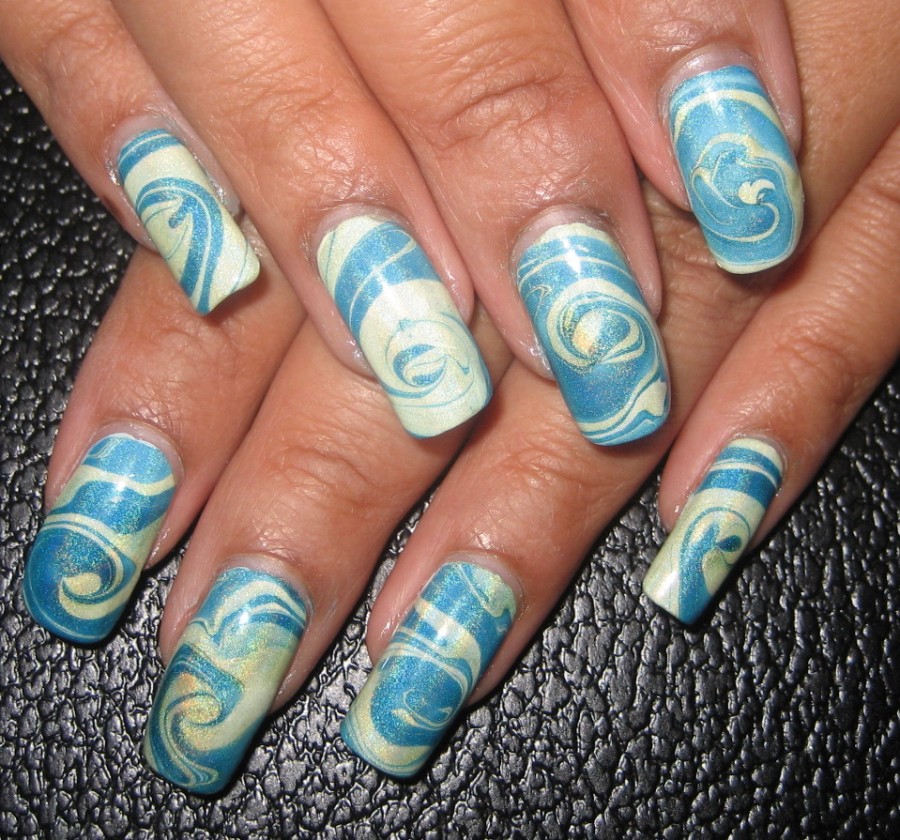 There are many ways to bring the ocean waves onto your nails. Pick your favorite shades of blue and think of the ocean…than swirl the polish making some pretty waves. Try to create marble art effect by using water and two shades of nail polish. Just create a marble design in the water using the nail polishes and dip your finger nail into it.
7. Abstract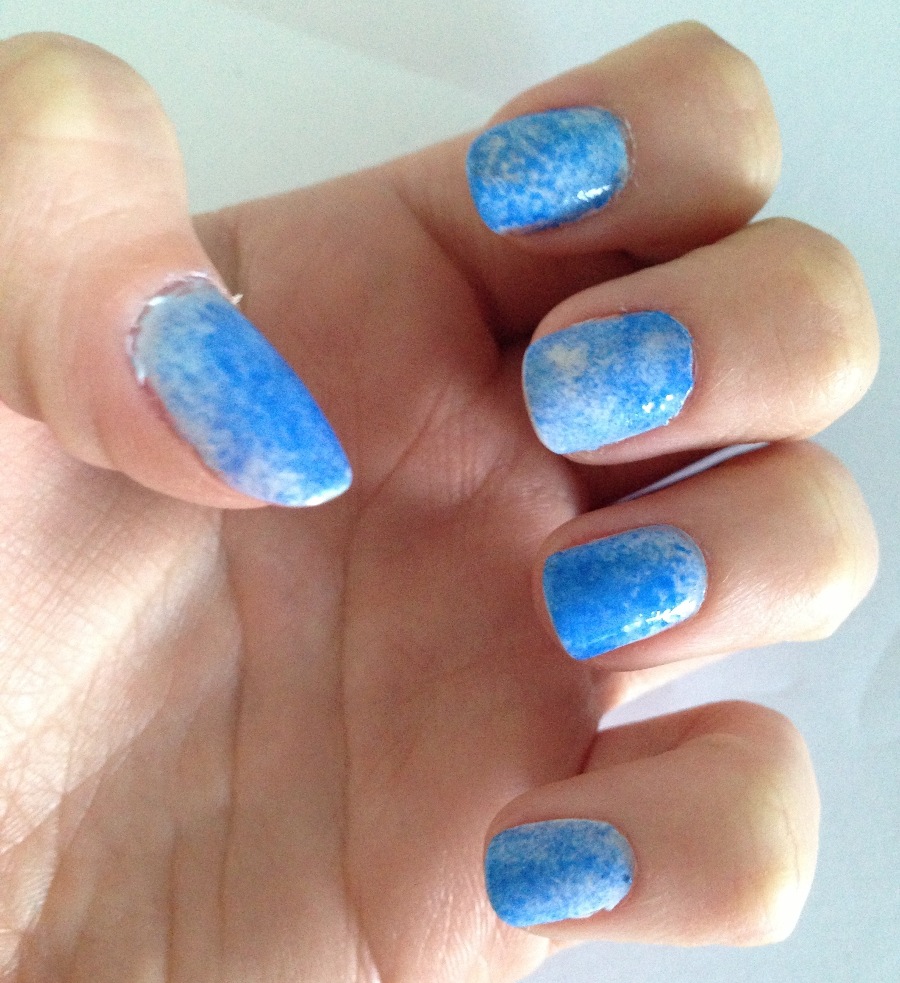 This artful design is not so hard to achieve. Get 2 or nail polishes -light, medium and dark in the same color family or mix it with white.  Use one color to cover the nail.  While polish is still wet, dab another color in middle with brush, blending toward tip and base. Using blues and white you can achieve a beautiful look of a cloudy sky.
8. Crazy Brights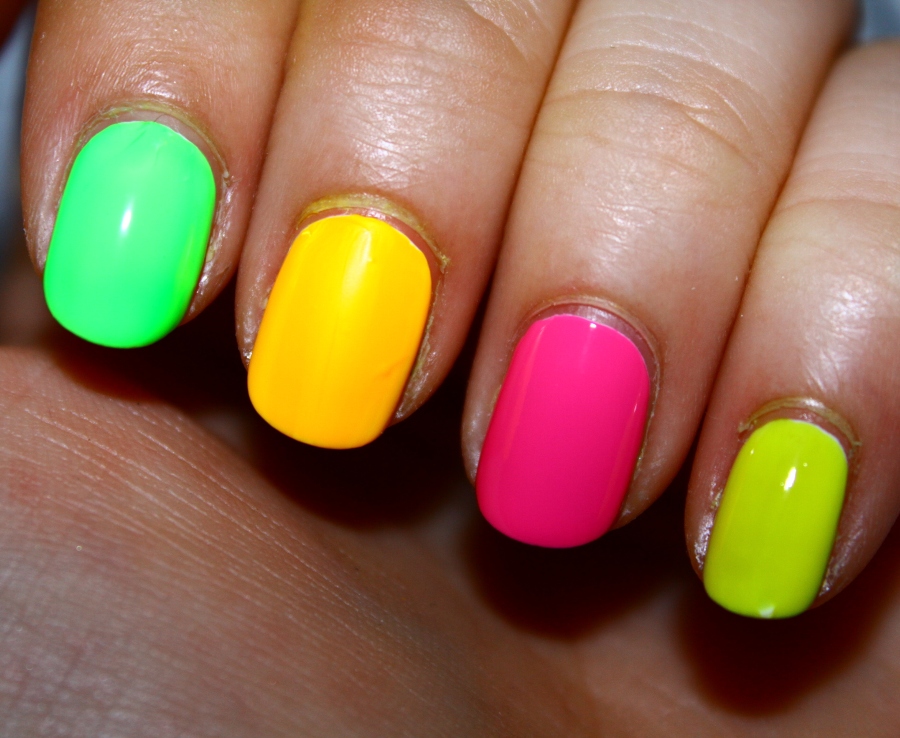 Summer is the best period for trying some crazy bright color on your fingers. Choose neon colors and you'll have super trendy nails. This is the easiest look to achieve as the only hard part is choosing the perfect shade. Shine bright like the sun!
 9. Butterfly Wings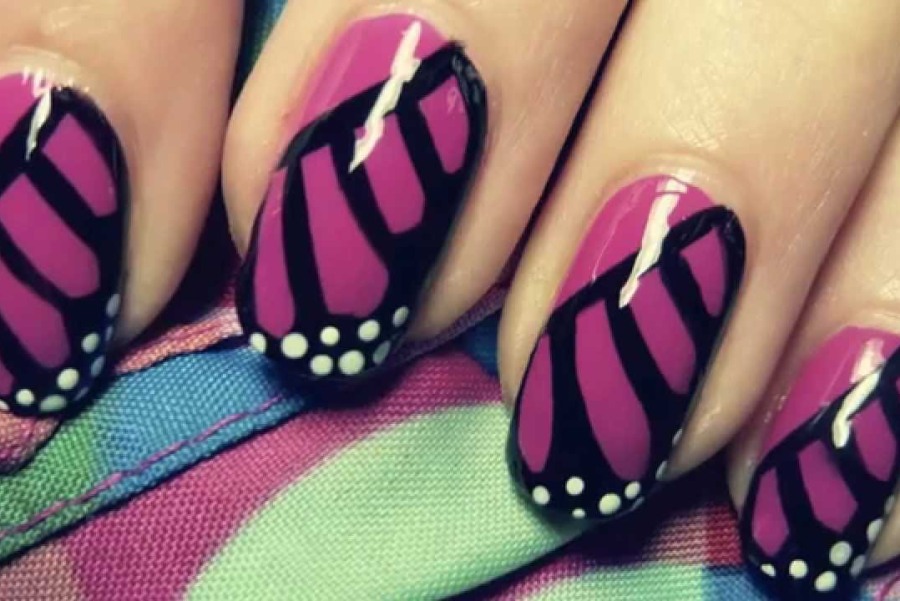 Who isn't inspired by the beautiful colors and pattern of butterflies' wings? Try drawing a butterfly wing using black nail polish over bright pink and your nails will look amazing. You can also draw a whole butterfly on one of your nails. Just choose bright and contrast colors for the best results.
10. Animal Print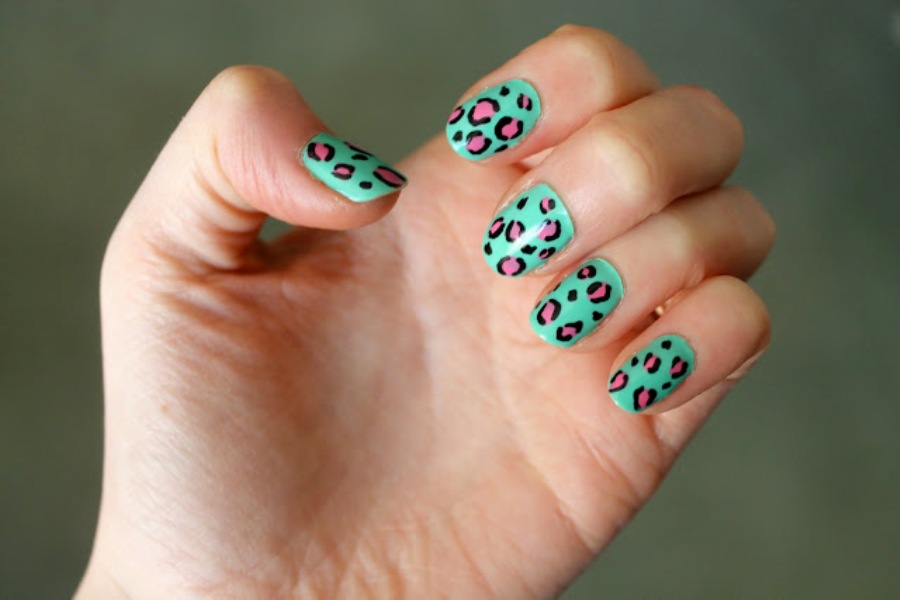 Animal print is always popular when nails are in question. This summer give it a new dimension by making it with contrasting  neon colors and black nail polish. Leopard, tiger, zebra – pick up your favorite and paint it on your nails. Our pick is pink leopard dots over turquoise base.
11. Minimalistic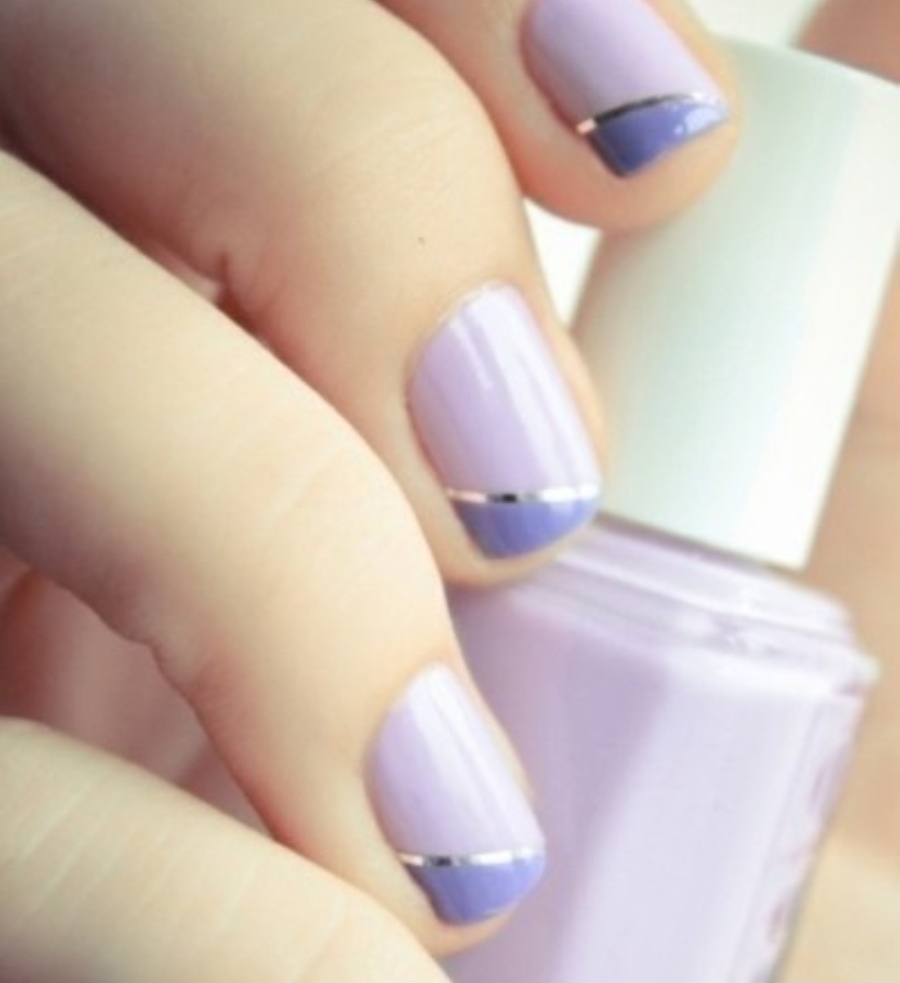 If you want something different for your nails this Summer opt for a minimalistic look. Choose pastel colors like lavender for the base shade. Add a hint of silver by drawing a diagonal line or creating a french manicure. Clean, simple and elegant.
12. Tribal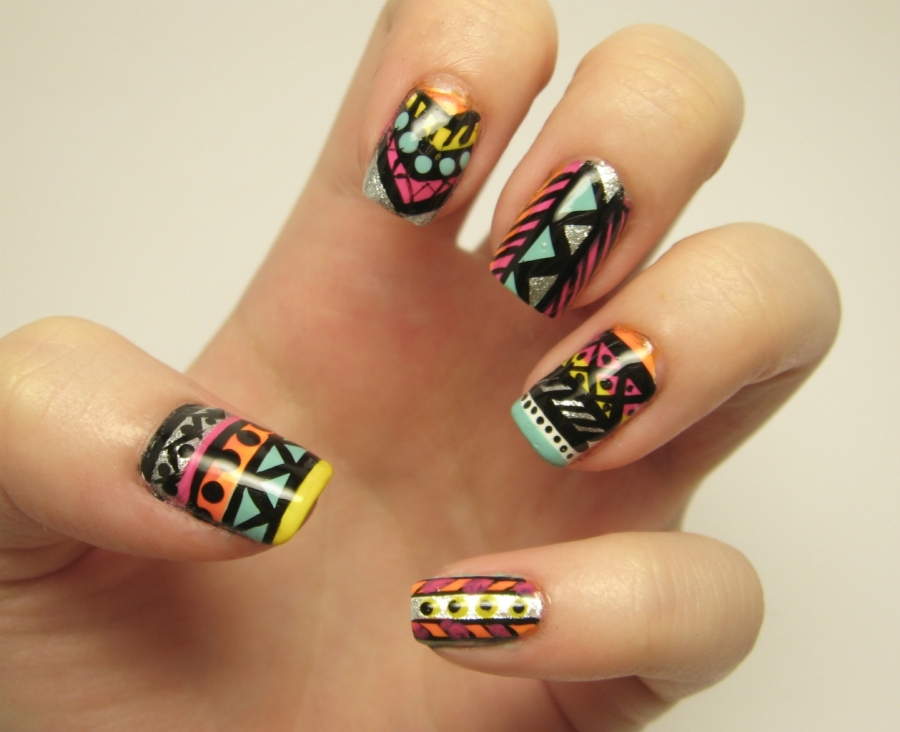 Tribal patterns might be one of the biggest trends this summer – literally for everything from clothes, bikinis, bags to nails. Once again use lots of bright colors to create Aztec like shapes on your nails. If you are not into drawing you can use nail tattoos.
13. Scalloped nails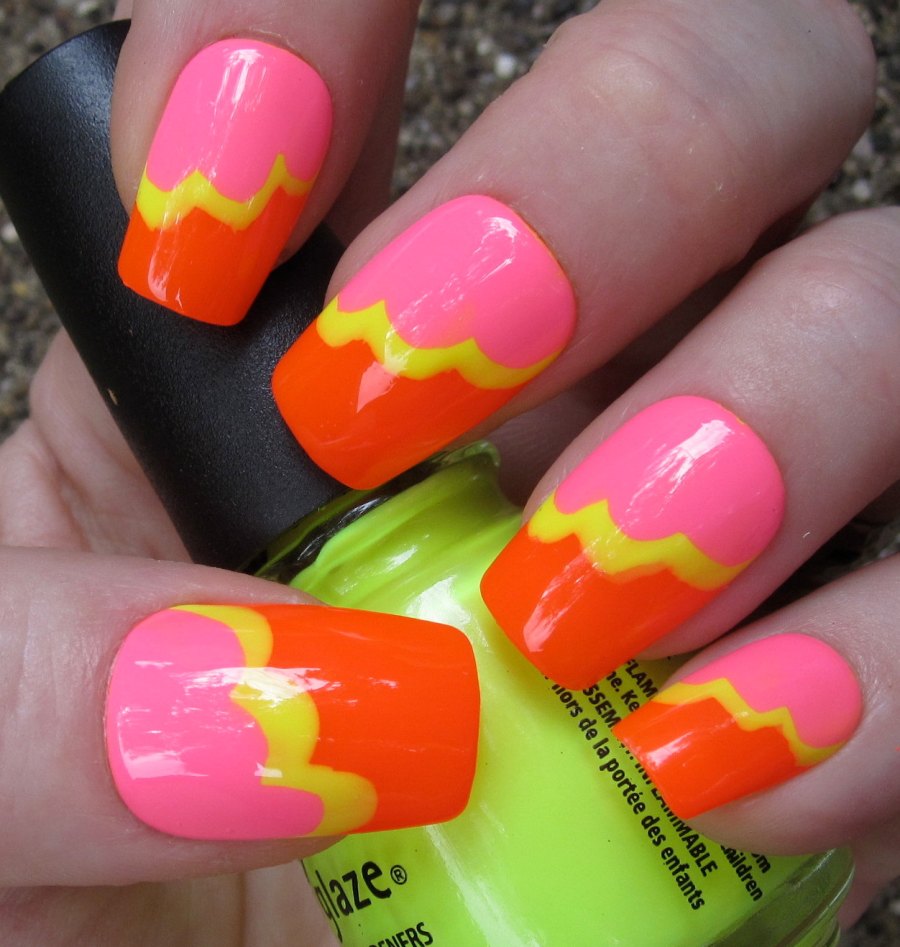 The scalloped version of the ombre is a total Summer hit! You can also do the scalloped nails in the colors of the rainbow or the color of the sky. Doing a scalloped French manicure is also fun and creative.  Because of this Summers color trends we choose neon colored scalloped nails.
14. Coral VS Gold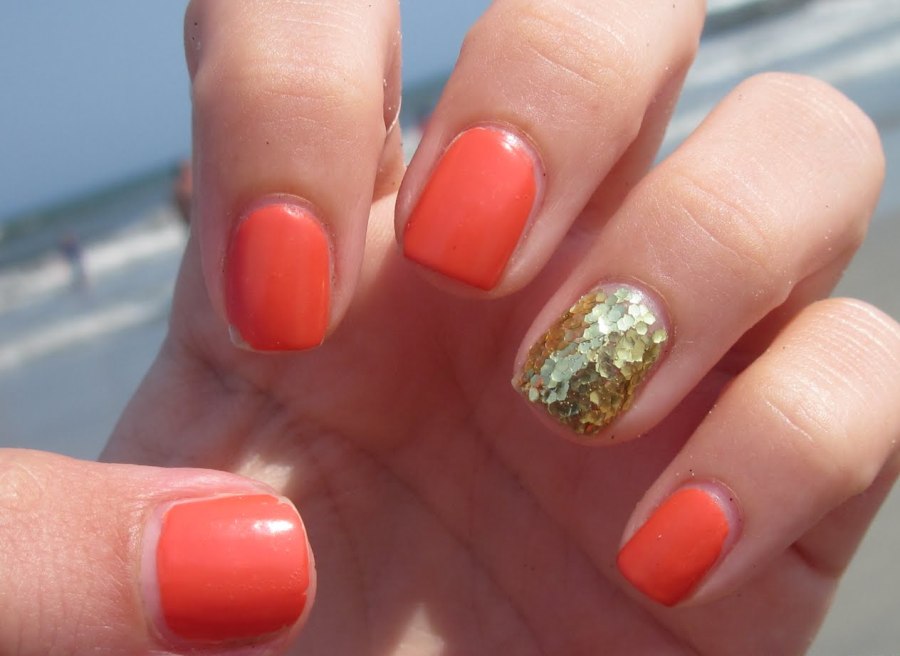 Coral is THE color for the Summer and we just love it on nails! Splash it with some gold creating geometrical shapes for a fun effect. It looks great and goes well with almost every outfit. For a more dramatic look paint your nails coral and choose one nail to paint a shimmering gold.
15. Tropical Flowers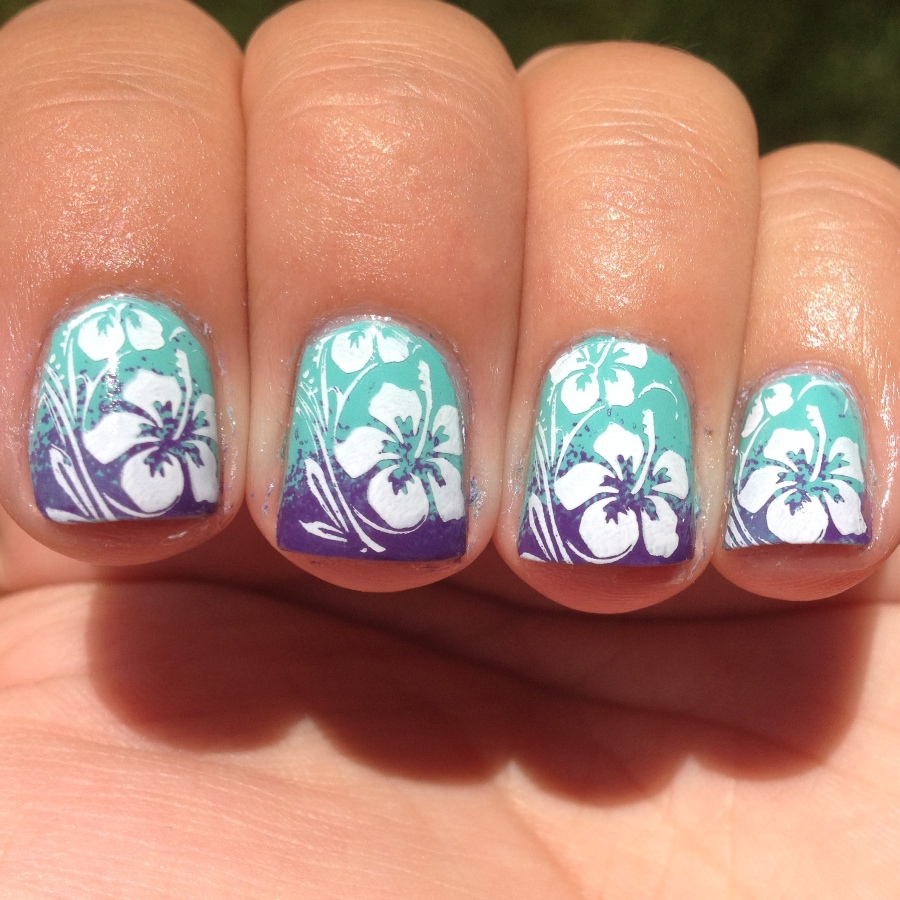 Aloha! Crate a small tropical paradise on your nails. Paint some beautiful tropical flowers – you don't have to be a great artist, make them abstract and messy – it doesn't matter. If you still don't think you can do it just buy some flowers nail decor and use it. Another popular flower for this Summer is the Hibiscus. Choosing a bold base color and painting the flowers with white gives a super cool effect.